18 September 2006
madness
A team effort. Danny on camera. Bez, Toby -ropes. Special thanks to Paul for lifting the generator up when the lead was too short. Jim, Shelle - nudist deterrent.
Bez starting up Namenlos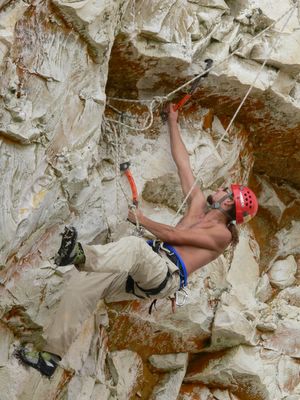 reach for the stein
like all good climbers: 3 points of contact
a steep route
6 September 2006
cruising the starting moves to "non stick"
when this hold breaks I'll end up in the sea
Lock left arm and repeat
"The holds are good, the holds are good, the holds are good"
"Eaaaargh is that IT?"
"At least my feet are on good holds"
"Oooooo no no no, they are rubbish too"
"Robert Old Bean, Please would you be kind enough to stop taking photos and take in the slack"
Rob (not me!) on Cloggy